SpineRehab Technology – All-in-One Solution
Intelligent Exercise Therapy
The Future of Spinal Therapy
Have you been dreaming of a system that provides the most optimum patient outcomes with comprehensive information management? SpineRehab combines the most advanced lumbar exercise machine with comprehensive software to create an intelligent system covering all aspects of therapy and data management. With the Back Extension Machine and the EVE software platform we make it possible to manage everything within one simple system. It helps reduce administrative burden and increase productivity within your Physical Therapy, Chiropractic Care and Hospital Rehabilitation center.
Movement as Medicine
Several studies have shown that movement can act as medicine for painful joints. With joints like the knee, which are relatively simple structures, movements are simple and loading is easy to apply in a controlled manner.
The spine, however, is a very complex structure involving vertebrae, discs, ligaments, dynamically functioning rotator and intervertebrae muscles as well as large, mostly statically functioning supporting muscles.
When pain and loss of coordination is added to the equation, it is extremely difficult to start exercise therapy in a controlled manner. Special devices are required to isolate the target area and provide total control in the movement and loading.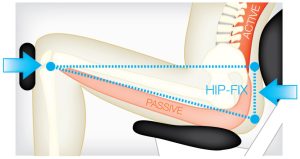 All movements should start with limited range and low loading, within the pain tolerance. Time is essential since physiological changes are slow. Ideal treatment should run for three months with an ongoing program afterwards.
Turn quality care into a competitive advantage with consistent patient outcomes and smart device enabled reporting.
All-in-one Software Platform for Therapists
Simplify intake with fully customizable digital forms. From assessment to registering medical records, we make it unbelievably easy to improve the patient experience by offering online scheduling, digital intake, and case management.
Everything on one platform.
Digital Intake
Daily Notes
Telehealth
Therapy documentation
Real-time data storage
HL7 integration
Diagnose-Based Exercise Therapy programs
Management reports
Reduce your administrative burden and eliminate redundant data entry by connecting EVE to your existing hospital EMR system. EVE professional is HL7-ready.
EVE Patient App
The comprehensive EVE APP is a user-friendly, personal patient app that can be used for filling out questionnaires, making appointments, performing home exercises, reviewing progress reports and test results, and sending messages to fellow patients or caregivers.
Customize your EVE Patient App with your center's logo and color scheme for seamless integration.
Learn more about the Patient App
Treatment program
The overall goal of a successful treatment is that the experienced pain decreases and the quality of life increases. In order to achieve this goal the active therapy must be progressive and in line with the individual's ability to adapt the changes.
The treatment is always based on individual assessment. The progression of the program follows the patient's subjective evaluation of the experienced resistance and the pain indicators. A default program for the Back Extension provides a safe start, which can be used in early stages of rehabilitation. At the beginning, the range of motion is designed to be small and the loading light.
Evaluations
Individualized programs require thorough understanding of the patient background, present condition and physical capacity. Standard evaluation protocol includes a validated questionnaire along with patient background, pain profiles and self assessment. Physical therapy evaluation assesses posture, functional deficiencies and limitations. Device based tests include strength and mobility in all movement planes.
Results are recorded in a database and a very illustrative spine profile can be printed out comparing test results to normative data. Evaluations done pre-, mid- and post-treatment program, provide objective outcome reports for doctors and third‑party payers as well as added motivation for the patient.
Indications and contraindications
Most back disorders can be treated successfully with the Back Extension Machine. These include unspecific back pain, degenerative changes, herniations and post operative situations. Participation requires exclusion by a specialist of any contraindications and consent by the treating surgeon within four months of the surgery. Contraindications include tumors, acute inflammations, and recent fractures. Successful treatment requires patient consent and motivation to participate.
Scientific evidence
Our principles are based on scientific facts and findings. This applies to both biomechanics in device designs as well as to training principles. We have conducted several validation and outcome studies over the past 25 years. These pages provide you with studies relating to biomechanics, medical outcomes, and economics.
Spine Rehab Academy
Spine Rehab Academy is a learning platform with courses, information, and videos on how to make the most of the Spine Rehab technology. You will learn to set up the patient to the devices correctly, complete mobility and strength tests, train with the correct movement, and understand the contraindications related to training and testing. You will also learn about the functionalities of EVE, and how to best utilize the software in practice. You will receive an official Spine Rehab e-learning certificate from each course.
Marketing Support
How to set up a succesfull marketing strategy for your physical therapy business? How do you differentiate your center from other centers by using digital marketing, word of mouth and offline marketing tools? The Spine Rehab Technology concept is more than just equipment and software. Especially for our clients, we offer a marketing package for the successful implementation of our state-of-the-art technology. Setting up a marketing strategy for your center requires careful planning and execution. This is how we support you.
Create your Exercise Therapy Business Model
Learn more about our solution for Physical Therapy centers, Hospitals, Rehabilitation centers, Chiropractors and Military.
Yes contact me for more information