Most Comprehensive Spinal Rehabilitation System
Comprehensive evaluation and treatment concept for back disorders. The solution uses carefully targeted movement and controlled loading to reverse the deconditioning syndrome related to back pain.
Individualized programs are planned based on questionnaires, physical evaluations, and tests. The specially designed back extension machine provides a safe and effective way of improving mobility, strength and spinal coordination.
SpineRehab – All in One
All-in-one solution for Physical Therapy, Pain Management, Chiropractic Care, and Spine Practices
The system includes a Back Extension Machine with integrated EVE Software platform and a mobile app for patients
Read more about the Back Extension Machine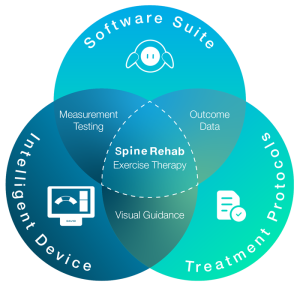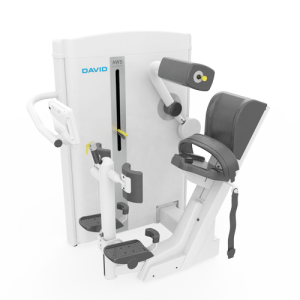 Back Extension Machine
Patient bio-feedback display
Recording of all training data
Automated Weight Selection
Automatic Seat Adjustment
Isolated movement
Hip Fixation Technology
Optimal Biomechanics
Powered by

SpineRehab – EVE software platform
Manage and measure what matters most. Engage patients and improve outcomes with EVE software integration offering:
Intake Automation – Email and text intake forms and functional outcomes to patients
Therapy Software – Easily document treatments via daily notes
Training Programs – Automation of training programs through AI
Home Exercise – home exercise programs
Medical Questionnaires – Digitization of medical questionnaires
Schedule Appointments –  via APP and / or website
API – Connect EVE with your existing EMR system or other software/hardware vendors
Patient Engagement with the EVE Mobile App
Interactive mobile app for tracking training data and sharing exercise programs
Guidance and tracking for home exercises
Chat with your therapist or group members
Manage appointments with your therapist or training group
Task module with notifications to improve your health
Read more about the patient App
All therapy data at the patient's fingertips!
Hello I'm EVE  – Your Virtual Assistant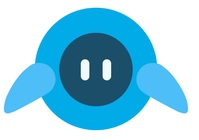 Spine Rehab Academy
Spine Rehab Academy  is a learning platform with courses, information, and videos on how to make the most of the Spine Rehab technology. You will learn to set up the patient to the devices correctly, complete mobility and strength tests, train with the correct movement, and understand the contraindications related to training and testing. You will also learn about the functionalities of EVE, and how to best utilize the software in practice. You will receive an official Spine Rehab e-learning certificate from each course.
Digitize Your Work with SpineRehab
The EVE Exercise Therapy platform is designed to simplify care delivery and optimize business performance.
Boost your patient experience and save valuable time with our industry-leading tools for patient intake automatization, daily activities, coaching, patient scheduling, treatment outcomes, home exercise programs and patient engagement. EVE has several links to various providers of EMR systems or other software/hardware vendors. A single platform to simplify care delivery.
The SpineRehab Patient APP will be available for subscribers through IOS and Android platforms

Yes contact me for more information