How the EVE Therapy Software works as a Virtual Assistant for the Therapists
Finally a complete exercise therapy software that works like a virtual assistant. With EVE you can digitize intakes, send questionnaires, send and sign the patient form digitally, create training schedules and digitize homework exercises with the handy Patient App. All operations can be automated in the EVE EMR software. Furthermore, other software/hardware systems can be added to EVE with the convenient API.
New patient enrollment, Daily activity overview, Questionnaires, Patient forms and Calendar functionality
View and Schedule an Appointment
Making or viewing an appointment can be done through the APP. For example, the patient can view when a meeting with a caregiver or group training is scheduled. It is also possible to reschedule or cancel an appointment.
Make appointment with healthcare provider
Reschedule an appointment
Cancel appointments
Send and receive push notifications for appointment reminders
Send digital forms and questionnaires to patients
The EVE software allows you to send and collect questionnaires and patient forms via the EVE app or by email. The questionnaires are automatically linked to the correct patient file. You can also prepare questionnaires for the future so you can automatically collect data. In EVE you can:
Send medical questionnaires via email
Send patient forms via email
Create automatic workflow for questionnaires per period or number of treatments
Analyze questionnaires
Compare two or more questionnaires
Patient documentation
Manage and collect patient data (daily notes, test reports, questionnaires, medical history records, physical examination, ICD 10 codes and other data with the comprehensive patient record system. EVE patient files include:
Daily notes
Test reports
Questionnaires
Medical history
Exercise program
Home exercises
Physical examination
Group categorization
ICD 10 codes
and more!
Manage your center with daily activities overview
View how many patients have been active per day at each center and view the patient compliance score (this score indicates whether the patient has complied with exercise parameters). It is possible to view:
Real-time information on how many patients are active at the center
How many patients have visited the clinic
Results (compliance score) of the patients
Daily patient notes
Test results
Questionnaire results
Patient biofeedback
Management reports and patient-related outcome measurements
Reporting database
With EVE software, you collect a lot of data, including center activities and patient data. Through our comprehensive and automated reports, you can build interactive dashboards for:
Information about visit numbers
Patient appointment analysis (no-shows and cancellations)
Patient outcome analysis
Questionnaire analysis
Net Promoter Score
All this data is easily exported to:
The mobile APP makes the patient much more involved in their recovery process. It encourages patients to be active in their treatment.
EVE Patient APP
 The EVE App is a safe way for patients to interact and participate in their own recovery process. All data is automatically linked to the EVE professional software which can be linked to your own EMR system if necessary.
Learn more about the EVE patient APP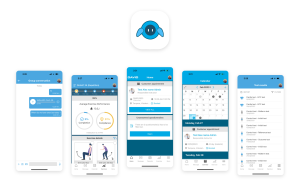 Yes contact me for more information